The MONTRANS Group of Companies (GC) has tried many service management tools but has finally opted for Okdesk. In comparison with competitors, Okdesk allows for relatively inexpensive automation of complex business processes, reduces redundancy of information, and completely eliminates hard copy paperwork.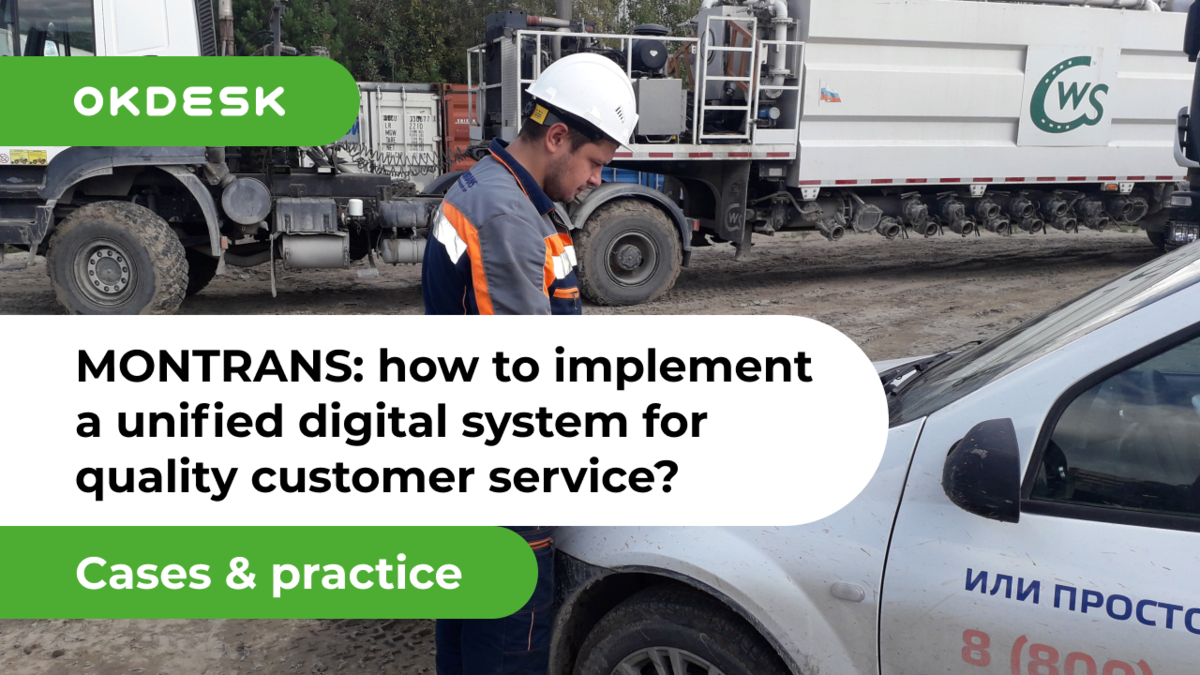 Brief Description of Fleet Management Intergrator's business
MONTRANS GC is a leader in vehicle fleet digitalization. The company has been working on GPS tracking & fleet management market since 2003 and is a developer of complex business solutions for automation of transport companies, as well as a manufacturer and supplier of telematic equipment and software.
MONTRANS solutions are implemented at more than 500 enterprises and serve more than 30,000 vehicles.
The company's technical department installs the equipment purchased by customers for their vehicles. The service department is in charge of warranty and post-warranty maintenance of GPS fleet tracking & management systems. The tech support department is in charge of quality assurance, training, and supporting the customer representatives. They prepare technical documentation and audit of the facilities. The second-line tech support is responsible for server maintenance and interactions with production and analytics departments.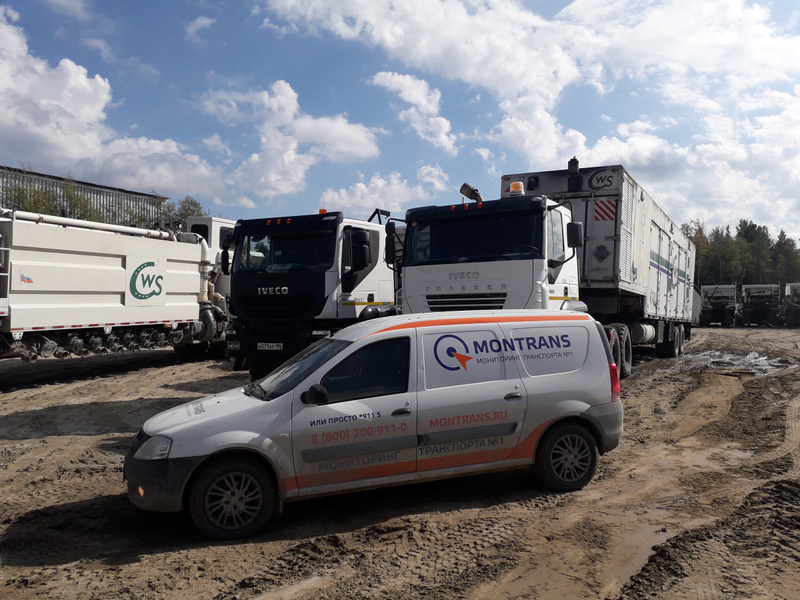 Searching for Service Dispatch System for Field Service & Service Automation
The company's two key areas are:
Field service, which requires an engineer's attendance for installation or troubleshooting and
Consulting, which can be performed remotely by service managers.
For this reason, the MONTRANS experts initially were looking for an automation tool (Work Order Software for fleet management integrator & field service automation) that would help to streamline the accounting of all applications from different departments and seamlessly integrate into existing business processes regardless of the geographical remoteness.
"We've tried a lot of options. We even tried using the system of our strategic partner. In the absence of a better option, we had to resort to ERP supplemented by email and a help desk. We used to receive installation and maintenance inquiries via email. Then we used the ERP system to create job orders and emailed them to the field engineers. The latter would complete the jobs and would send back files with configurations of installed terminals to upload to the monitoring system. We had a dedicated specialist to make sure that this process was workable and that everything was sent and received on time. Engineers would also submit hard copy statements to the accounting department. These were then used to bill the customers for the services rendered," commented Dmitry Laptev, Head of the Tech Support Department at MONTRANS GC.
The company managed to automate separate business processes with the use of different tools, but to meet all service needs, it had to deal with several solutions. For each of those solutions, they had to adjust the already established workflow. Taking into account the scale of business and active development, as well as the digitalization of all internal processes and external services, they needed to find a tool that, would support the existing processes, while also facilitating the implementation of changes and providing an even higher quality of service.
We've analyzed over 10 different platforms and help desk industry solutions that 'shout out'  they can automate any service process. We encountered Okdesk at one of the events and got immediately intrigued. We realized that this system would allow us to automate our rather complicated business processes involving installation and subsequent service of equipment sets. Besides, we could integrate it with other components of our infrastructure. Among other features, Okdesk offered 'out-of-the-box' tools for customer interactions like a customer service portal which proved to be a real innovation in our industry. For instance, their mobile app was demonstrated in two versions at once: the client version and the engineer's one. The flexible API allowed us back then to compile a partner directory on our test account within a few days," commented Dmitry Zhuravlev, Head of the MONTRANS GC's analytical center.
Okdesk - A Unique Fully Transparent Help Desk Platform for Customer service
MONTRANS has been using Okdesk since the fall of 2019. The service automated all processes related to consultation, installation, and maintenance. However, its application and operation model is unusual for the integrator. 
From the point of view of business processes, all tasks are logically divided into installation and diagnostics (with subsequent repair if necessary).
Installation requests come through the sales department. Sales managers work only on CRM and ERP platforms, where they create the necessary requests. These requests are then picked up by Okdesk via integration. Thus, although employees perceive the outlines of the work from a different perspective, they are nevertheless united into an uninterrupted process. After some tuning, they managed to create and submit all requests on time.
Leading software for maintenance, field service & work order management. Experience with more than 10,000 companies
Service requests, conversely, are made via Okdesk directly. The active customer base is divided between several service managers, who both act as the first line, answering the calls, and are in charge of events at the customer's end. Thus, all customer requests throughout their life cycle—from registration to execution—are handled by appropriate professionals that can ensure the deadlines and solution quality for each request.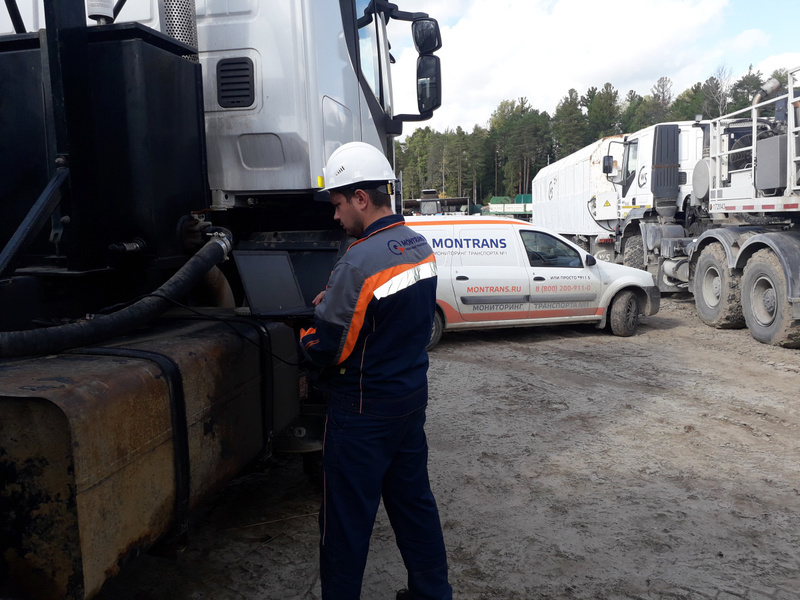 Most of the requests today come via phone calls through VoIP integration. Some of the requests are made via email or MONTRANS  customer service portal. All they have to do is send them to the engineer, or to the manager to bill an invoice with one click.
We have shared access to Okdesk's out-of-the-box customer service portal for our VIP customers. This has improved transparency in our communications. They can now create their own requests and monitor the progress of requests at all stages. It relieves us of a great deal of our work. Of course, the customers got used to proactive service, when they practically have nothing to do but consent to make another request," remarked Dmitry Laptev.
An important factor is that the company has been able to implement a workflow roadmap depending on the type of malfunction using automatic rules. The service manager now points out one or more monitoring system malfunctions on the customer's transport. When the engineer fills in the checklist, they receive the list of tasks that were approved for to fix the malfunction according to the regulations and options that must be agreed upon additionally.
Service process automation in Okdesk
For each request, the first step is to determine whether the problem can be resolved remotely or whether an engineer has to visit personally. If personal attendance is necessary, the request is assigned to engineers in the corresponding region.
Each region has its own request distribution system depending on the number of representatives. In regions where there is the largest number of both the requests and employees, the distribution is handled by the head of the service department. When the request is forwarded to field engineers in some regions, it is assigned to the department head. They distribute it among the executors, taking a lot of factors into consideration. Employee workload schedule is actively used for this purpose.
The company purchases a laptop and a smartphone with a fully functional pre-installed Okdesk mobile app for each new employee. The field engineers use it to receive the requests. The procedures for engineer's work are standardized to select malfunctions, for which the app automatically generates a list of necessary tasks or specifications. The engineer goes through the checklist on their smartphone and checks off the issue items upon eliminating the issues. Then, they generate a report and send a notification to Okdesk.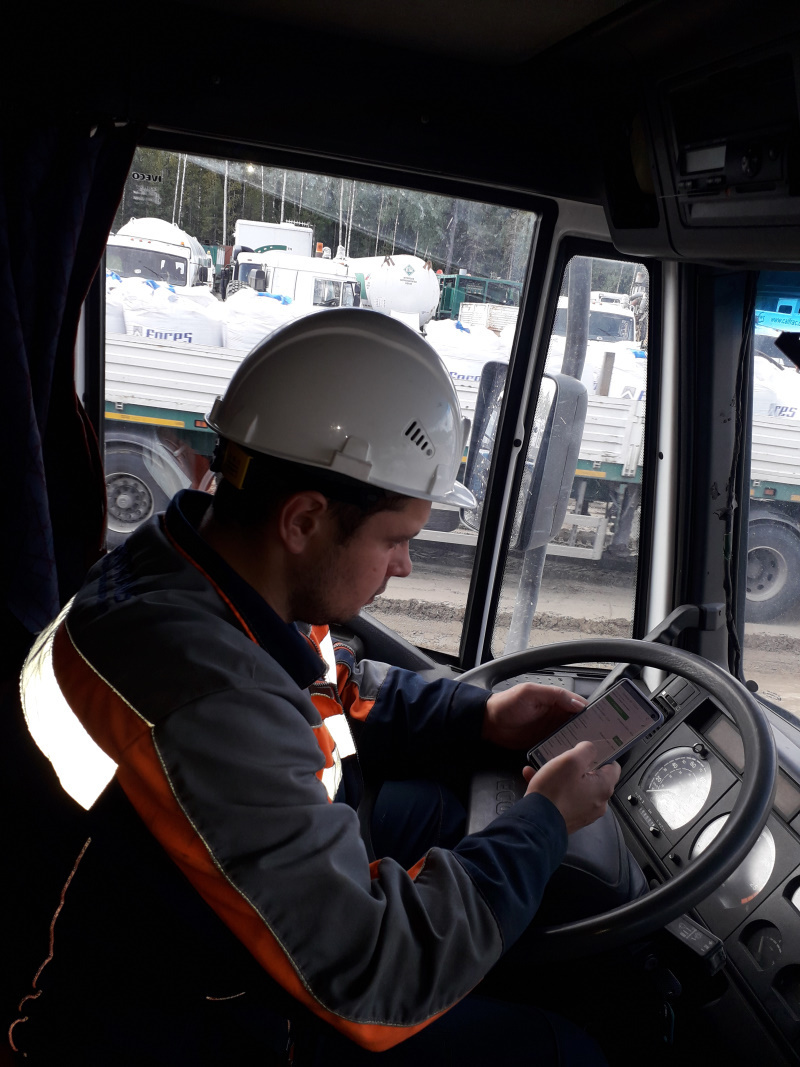 After the Service Manager has checked the result of the work, the notification is forwarded to the customer's app on-site together with the report, photos, and statement. In the app, the customer must confirm the completion of the work and rate the engineer. The engineer can file a hard copy report act and sign it on-site with the customer, if necessary. The app-generated report filed with the accounting department is then used as the basis to bill the customer. All process data, in turn, serves as the basis for deeper analysis and further adjustments. Thus, the entire process is digitized. 
"Thanks to Okdesk, we've almost entirely eliminated the need for hard copy reports. We have a special form to fill out and sign on the smartphone screen when the status of the request is set to "Work complete." When the report is signed, the status of the request is changed to "Maintenance complete." We have reduced the work completion and payment paperwork deadlines by one calendar month, and eliminated many disputable issues," reported Dmitry Baranov,  Head of the Service Department, MONTRANS GC.
To ensure ultimate transparency—which we at MONTRANS consider foundational for long-term trusting partnerships—we have configured automatic rules in Okdesk. They allow us to inform the customers about all the main activities relevant to their request, especially about those requiring their intervention. We have set up chatbots to exchange messages in Telegram and via email.
At the final stage, the request is returned to the service manager who conducts additional quality assurance and makes sure it fully meets all internal regulations. It is then forwarded to the accounting or returned for revisions. We use API and ERP integration to bill the customers. All the reports are sent to the accounting department to be immediately processed. A request is closed when it's been processed by the accounting department. This way, we can keep a record of both warranty and non-warranty repairs, as well as associated expenses.
We can calculate the engineer's bonus payment in Okdesk proportionally to their workload. The executor can see in the app exactly how much they will make on a request. These bonus amounts are automatically added to the executor's account and the ERP system.
Analytics and Short-Term Help Desk System Development Plans
Okdesk has already allowed MONTRANS to automate a number of complex business processes. They've still got a lot of work ahead of them, particularly on reporting for customers. 
Digital services by MONTRANS allow for the automatic generation of reports on the number of placed, executed, and closed requests. Since the department closes several thousand such documents per month, it is obvious that it is one of the top priorities for management to analyze its work. All processes of every department are rated in the company's BI system.
"For our company, which offers vehicle fleet automation services, it is critical to have tools to analyze every site and process and to control the KPI of the business. We must be fully aware of what's going on when we make our decisions, and it all has to be backed up by data. We've integrated Okdesk with the BI system and we are already seeing that the loss of efficiency has shifted from the paperwork to the time spent for processing requests, that is, down to the human factor. In the near future, we're planning to create information boards that will accurately reflect the bottlenecks in certain aspects of our work and help us to fix them. Being an industry leader, we strive to provide our customers with the best possible quality of service," pointed out Igor Yershov, MONTRANS GC's Chief Technical Officer.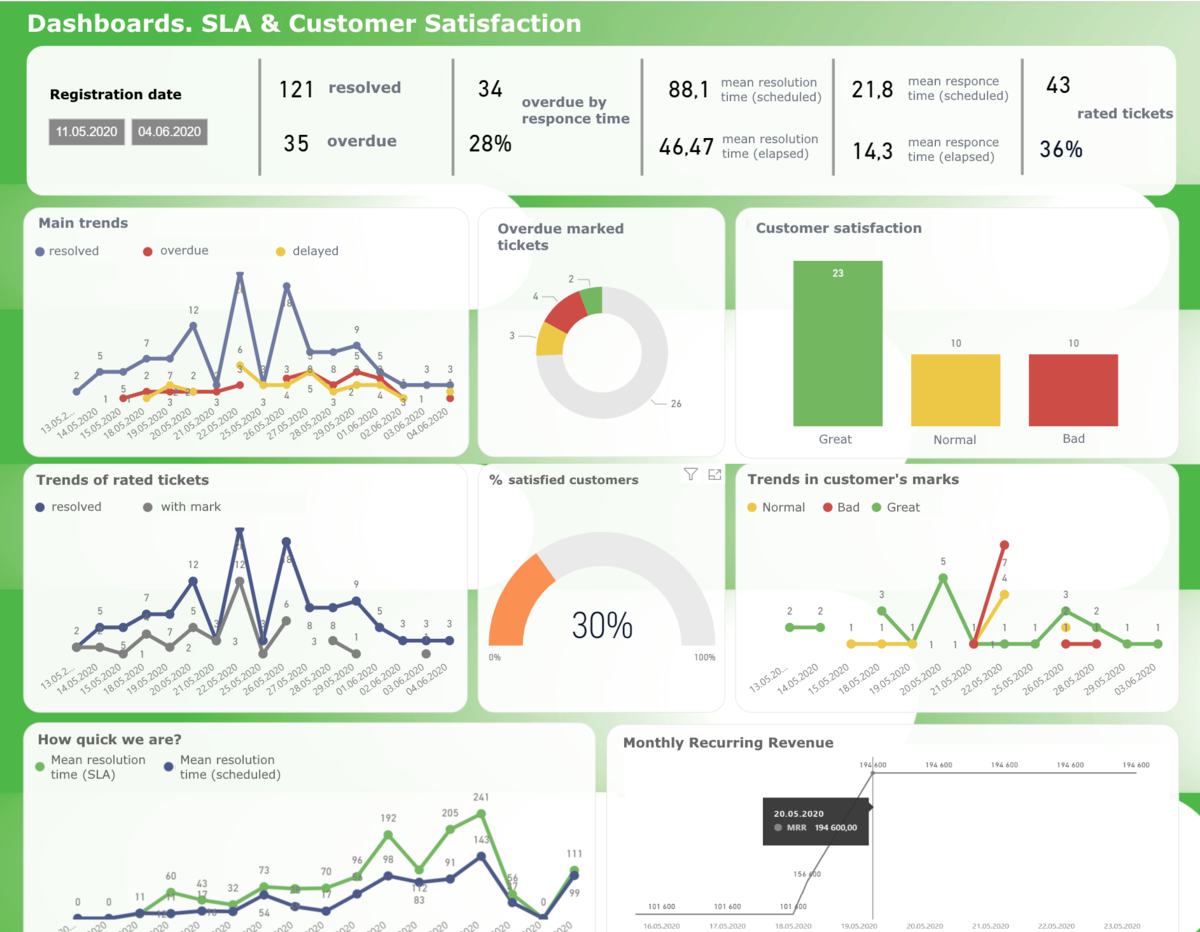 At the same time, they are preparing a more accurate assessment of internal labor costs. Every event — either warranty repairs or consulting their customers — gains a digital value and weight in their work. MONTRANS prioritizes in the future to prevent installation errors as well as to improve work forecasting.
"We would like to implement and control time standards for different kinds of work. This will allow us both to increase processing of requests and to ensure the best, guaranteed, and controlled terms for our customers to address various issues," added Igor Ershov.
Results of Work Order Software Implementation
Switching to Okdesk allowed MONTRANS to eliminate redundant information and automate a number of business processes as convenient for the company. Implementing the Work Order System has so far paid for itself by reducing the customer billing times and ruling out the excessive document exchange from the workflow between the departments. 
"We are now able to bill our customers the same or the next day. That's a huge leap forward for us. When we were working with several different tracking systems, it could take us up to a month to bill our customer," Dmitry Baranov stressed.
"A company willing to continue existing and developing in a 21st-century market must be concerned about automation and digitalization of their business first and foremost. There are but a few functional and convenient tools on the market that can help us cope with the chaos. Okdesk is a unique help desk system with an underlying configuration that largely meets your expectations. In the course of getting used to this cloud solution, you can either customize your own turnkey workflow for your business or follow the software's logic. In any case, the Okdesk cloud system allows building enterprise-grade service processes, it meets our expectations, it's being actively developed as we go along, and the project's team is always attentive to its customers. I always advise my colleagues to seek out products that provide the most value for their money," Dmitry Zhuravlev summarized.
Okdesk is the leading Maintenance Management Software for service automation, maintenance, and field service.